Daiwa Pegasus 2 Smart 3D SL-Track Massage Chair with Zero Gravity, Auto Body Scan, Shiatsu Wave Massage
List Price
$11,499.00
Price
$10,000.00
Get it in 8-15 business days
•
Free White Glove Setup (limited time)
• Zero Gravity
?
• Zero Space Wall Hugger Design
?
• Shiatsu Wave Massage
• 3D Massage Rollers
?
• Automatic 3D Programs
• Auto Body Scan
?
• SL-Track
?
• Therapeutic Heat Therapy
• Surround Sound Speaker
• Rocking Rotation Technology
• Automatic Leg Extension
• Triple Reflexology Foot Roller
• High-end Saffiano PU Leather Detail
• Smartphone And Tablet + Charging Station
• Advanced Remote Control
?
• Multi-language Handheld Remote
• Neck & Shoulder Massage
Description
Helpful Articles for You
Pegasus 2 Smart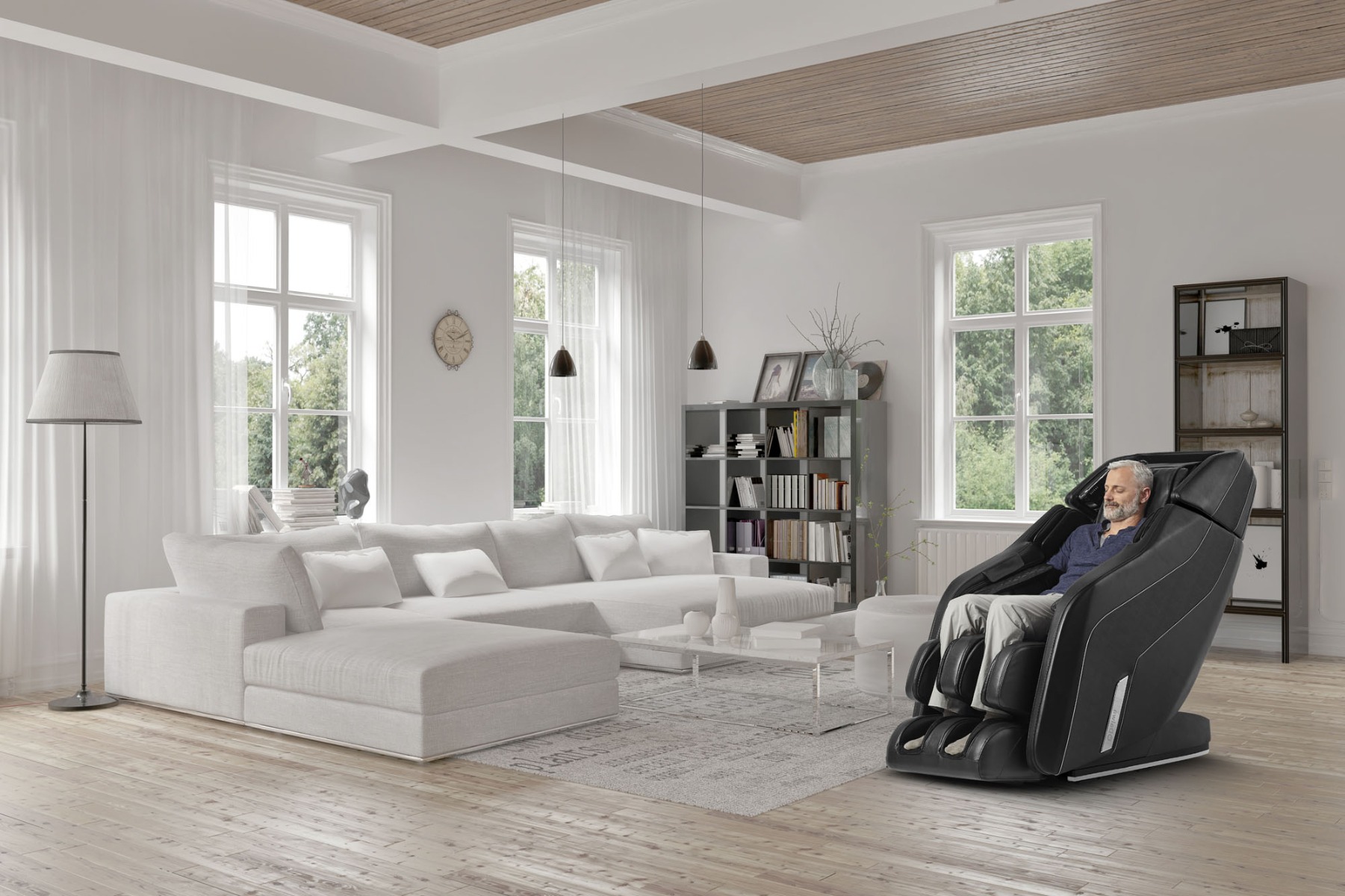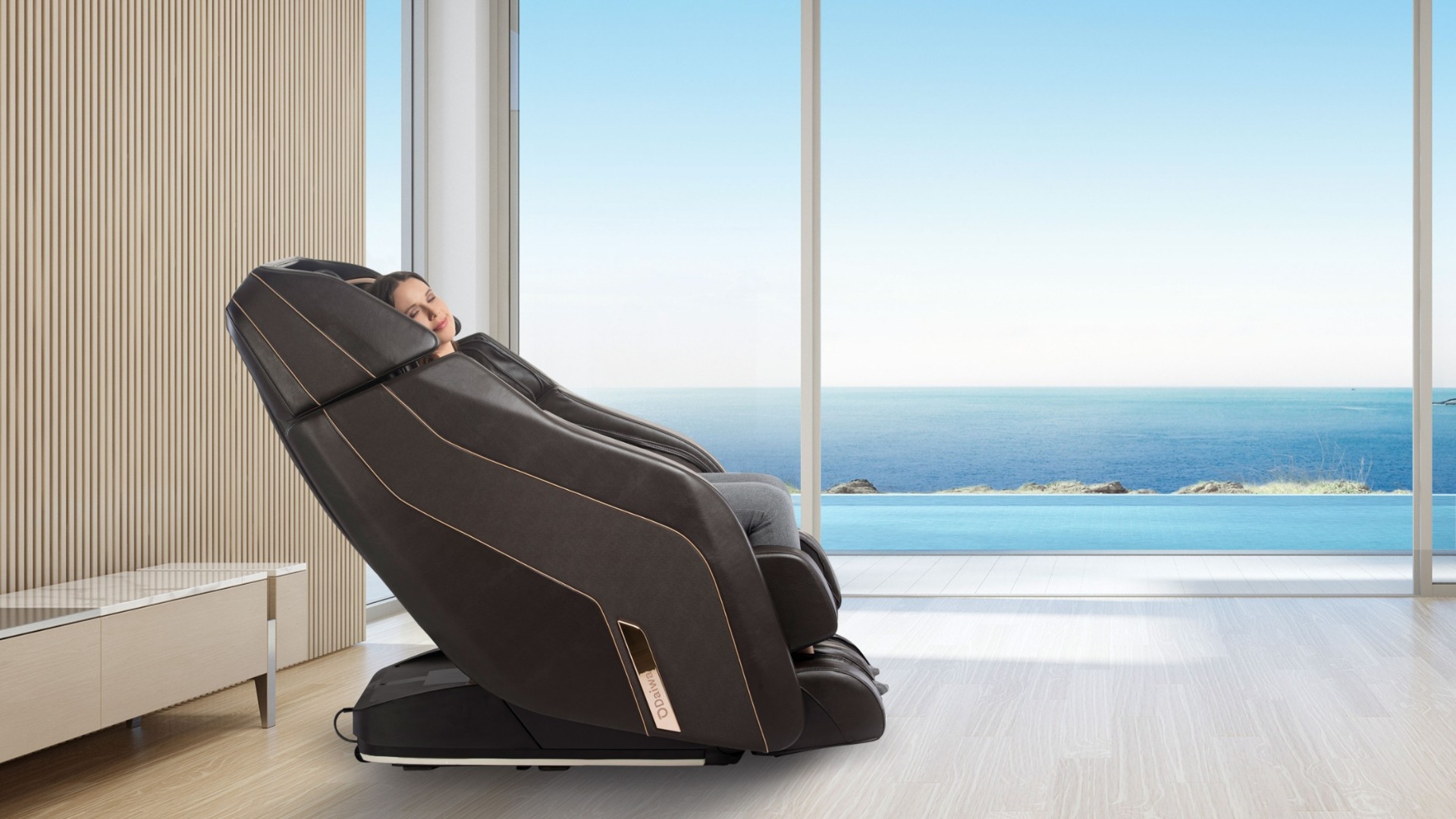 ---
VOICE-ACTIVATED MASSAGE SYSTEM
The Pegasus 2 Smart is Daiwa's first chair with Smart-Listen Voice Control technology, letting you activate a massage program or make "just right" adjustments without lifting a finger. At the end of a long day, your Pegasus 2 Smart is a great listener, ready to greet you with a comforting shoulder rub in sync to your favorite slow jam. It starts with a simple "Hello, Daiwa."
Your Pegasus 2's Smart-Listen feature even speaks multiple languages. Easily switch the language preference to Chinese and speak to the Pegasus 2 Smart in Chinese.
---
ADJUSTABLE SHOULDER
Named after the mythical winged stallion, the Daiwa Pegasus 2 Smart can also expand its "wings" to insure a comfortable experience for users of all sizes. The width extends from 26 inches to 32 inches for people with a larger stature.
---
ZERO SPACE WALL HUGGER DESIGN
The Pegasus 2 Smart's gliding recline mechanism takes up much less space, allowing the entire chair to fully recline when placed just 0.25" from any wall.
---
SHIATSU WAVE MASSAGE
The Pegasus 2 Smart has the most technologically advanced leg massager! This upgraded design now applies Shiatsu rollers to the back of the calves to provide a complete calf massage. Not only do airbags on the feet and calves rhythmically expand and contact, they now move in a wave-like motion; all of this combines to further rejuvenate tired calf muscles.
---
3D MASSAGE ROLLERS
The Pegasus 2 smart features our next-generation 3D Massage Rollers. By moving in multiple directions, the rollers are designed on an extra plane of movement that allows them to follow the natural contours of your body. Select up to 5 intensity levels for the ultimate full-body massage.
---
AUTOMATIC 3D PROGRAMS
Three innovative automatic programs are designed to make use of the new 3D massage rollers. The Deep Shiatsu setting uses the techniques of a massage therapist to apply pressure to key points along the spine to encourage healing and overall harmony of body and mind.
---
AUTO BODY SCAN
The Auto Body Scanning System maps your entire back before the massage begins, to ensure massage accuracy and efficiency. This system ensures a massage that is contoured to the unique curvature of your spine.
---
L-SHAPED MASSAGE TRACK
An extra-long, L-Shaped Massage Track runs from the top of the shoulders to the upper thighs. The 3D SmartScan maps your entire back before each massage in order to provide a custom experienced that is contoured to your spine.
---
THERAPEUTIC HEAT THERAPY
The Therapeutic Heat function around the lumbar region provides soothing relief from chronic lower-back pain. Heat therapy helps ease tension and stress, relieve arthritis pain, and heal sore muscles. Warm muscles are more pliable, making the massage treatments more effective.
---
SURROUND SOUND SPEAKERS
High-quality compact speakers are mounted at your ears for a surround sound experience. Connect wirelessly to your favorite Bluetooth device to experience the benefits of music therapy. And the "Rythmn" manual massage mode will work your muscles in sync with the music!
---
ROCKING ROTATION TECHNOLOGY
The Pegasus 2 Smart gently rocks back and forth to generate the feel of classic rocking chair, which reduces anxiety and helps you to have a more restful sleep.You can enjoy this feature as an option with any of the massage functions, or enjoy it on its own as a way to relax or to take a nap.
---
ZERO-GRAVITY EXPERIENCE
The Zero Gravity Recline shifts the recline angle, evenly distributing body weight and reducing pressure on joints and organs. You'll experience a floating sensation that over time reduces chronic pain.
---
AIRBAG MASSAGE ON THE UPPER & LOWER BODY
Built into the chair are 48 airbags that rhythmically inflate and deflate during your massage session.
NECK & SHOULDER AIR MASSAGE
The airbags within the pillow cushion inflate and deflate to gently stretch the neck from side to side, while rhythmically squeezing and releasing muscles along the neck and shoulders
---
UNDULATING AIRBAG FOOT MASSAGE
Powerful airbags inflate and deflate in an alternating pattern around the calves and the feet to relieve tension and improve circulation, while built-in grips gently hold your ankles in place.
---
---
AUTOMATIC LEG EXTENSION
The leg unit automatically extends out up to 5.5 inches for taller people.
---
TRIPLE REFLEXOLOGY FOOT ROLLER
Based on the principles of reflexology, our foot rollers activate nerve endings on the feet to relieve tension, improve circulation, and renew vitality. Our three different foot rollers target the specific needs of the feet.
---
HIGH-END SAFFIANO PU LEATHER DETAIL
The saffiano style was developed by luxury handbag makers to give the leather surface a crosshatched texture that is stylish, durable, and easy to keep clean.
---
BONUS CHAIR & FOOT PADS
The 3/4-inch-thick soft chair pad allows you to enjoy the chair as a recliner without any massage treatment.
---
SMARTPHONE AND TABLET + CHARGING STATION
The Pegasus 2 Smart Massage Chair App connects wirelessly to your chair using Bluetooth. Use the app to access the controls, including activating manual and automatic massage programs, targeting massage to different parts of your body, or varying the massage type and intensity. Keep your devices charged with Solace's convenient USB charging port.
---
TAPPING TOO HARD? TURN THE TAPPING OFF!
Our tapping feature is specially engineered to get rid of persistent pain. This technique stimulates blood circulation and can be invigorating to most people, but may be too intense for some. Unlike other massage chairs, you have the option to keep the tapping ON or OFF. This feature can be used anytime during an auto-program. We care about people who suffer from pain but also want to enjoy a massage in comfort.
SEAMLESS TRANSITION AMONG PROGRAM OPTIONS
This feature makes the switch between massage programs smooth and seamless. It eliminates interruptions while navigating program options, and prevents short-circuit or overheating damage.
---
MULTI-LANGUAGE HAND-HELD REMOTE
Choose from 27 auto programs* or 9 customizable manual programs with the easy-to-operate handheld remote. A convenient pocket keeps your controller secure and in reach. Remote includes a wide selection of languages such as: English, Spanish, Chinese (Traditional), Chinese (Simplified), Korean, Japanese, and Vietnamese.
*9 programs x 3 time settings
Free Shipping
Shipping is free for all orders within the continental 48 states!


Orders are typically delivered within 8 to 15 business days (or about 20 business days for white glove setup). Please understand that delivery companies are backed up due to covid.

You'll receive a phone call 1-2 days prior so you can schedule a convenient day/time. You don't have to worry about them showing up unannounced.
Do I need White Glove Setup (also known as indoor setup & assembly) or can I do it myself?
The chairs are easy to assemble. It only takes about 20 minutes. The only reason assembly is required is because most chairs ship with the arms detached to make it narrower, lighter and easier to move into your home.
The assembly is basically just screwing the arms to the chair. It includes easy to follow instructions and does not require special tools or skills.
If you want them to setup the chair inside your home, you can select the option for "White Glove Setup". We don't recommend it for most people it because it's an easy way to save yourself the money. But we're happy to add it to your order if you'd like.
Canadian customers
Yes, we ship many massage chairs to Canada. Total turnaround time is typically about 2 and a half weeks. We make it easy by handling all of the importing paperwork. We also pay for the customs brokerage and filing fees.

GST (usually 4.9%) and duties if levied, would be billed to the customer. Duties have never been levied on massage chairs we've shipped to Canada.
Manufacturer's Warranty
This item includes a 3 year manufacturer warranty on the parts. And for the 1st year, in home labor service is also included.
A qualified technician would be sent to your home to provide service if you ever need it. You never have to ship the chair for service.
For the full warranty text, please click here
3 Years Rock Solid Warranty / Parts & Labor Warranty
This warranty guarantees that the product purchased is to be free from defects in material and workmanship under normal usage and local voltage for a period of one year. This warranty is extended to the original buyer only. A deductible or shipping allowance may apply. In the case of flaws in material or workmanship, U.S. Jaclean, Inc. will repair this product with new or rebuilt parts, free of charge, within a period of THREE (3) years on parts, and ONE(1) year on labor after the date of purchase.
This warranty only covers failures in materials and workmanship. It does NOT cover normal wear or cosmetic damages, nor damages that results during shipment, from accident, misuse, abuse, neglect, mishandling, commercial use, or service by anyone not from U.S. Jaclean, Inc. Continued use of this product after discovering a defect voids warranty.

Warranty Agreement:
Daiwa is dedicated to upholding a reputation of dependability, quality products, and great customer support. We offer comprehensive service centers across the United States, and we are proud to provide warranties for all of our massage chairs.
Please register your warranty as soon as possible by using our Warranty Registration system below. Warranty coverage begins at the time of purchase (with registration, see below), and covers a chair's parts and framework for a period of two years, along with labor for one year, after initial purchase. An extended warranty is also available for purchase. Any one of our dealers would be happy to clarify the details of our warranty to meet your satisfaction.

Warranty Registration:
Our Warranty Registration system is used to keep track of products in case of damage, recall, or any repairs needed. Your Warranty is not valid until registered, however starting September 1, 2017 our sales representatives automatically registered your chair's warranty at the time of purchase.
If you purchased your chair from a third-party vendor, or if you purchased it prior to September 1st 2017, you may need to register your warranty using our online form. Registering will ensure that you can make a warranty service request if you need to. If you are unsure if your warranty is registered already, please ask your sales representative.