Osaki OS-4000XT SL-Track Massage Chair with Zero Gravity, Space Saving Technology
List Price
$5,499.00
Price
$4,799.00
Get it in 8-15 business days
Yes, We Price Match
Get the lowest price with free shipping and save on the sales tax.
•
Spot and Partial Massage
•
4 Speaker System
• Ache Sensor
• Unique Foot Roller Massage
?
• SL-Track Massage
?
• 2-Step Zero Gravity Mode
?
• 6 Massage Styles
• 6 Auto Massage Programs
• Space Saving Technology
?
• Heating on Back
?
• Full Body Massage
?
Description
Helpful Articles for You
Osaki OS-4000XT
The Osaki OS-4000XT massage chair with LED light control features an L-Track system with 2 step zero gravity, 6 auto programs, and an Ache Sensor. The Ache Sensor detects the aching point of user's body once the arms are inserted into the sensor naturally in the armrest.
Ache Sensor
The OS-4000XT has an Ache Sensor which detects the aching point of the user's body by putting their hands into the sensor naturally in the armrest. The massage will be focused on the collected aching points accordingly.
L-Track Massage
As the roller system massages the neck area, it continues through to the lower back and then proceeds to massage the glutes and upper hamstrings.
Full Body Airbag Massage
There are multiple airbags located throughout the massage chair to offer a full body massage experience. The 4000XT offers a total of 24 airbags in the massage chair. Airbags are located at the shoulders, arms, feet, and the calf areas. This compression massage helps to continue increasing blood circulation throughout the body to relieve pain and tension.
Unique Foot Roller Massage
OS- 4000XT has one spinning reflexology massage roller located on the bottom of the feet, providing a soothing kneading style application. As the rollers spin it will stimulate acupuncture points and as the air bags inflate it will generate a much deeper massage along the bottoms of your feet.
Two Step Zero Gravity Mode
Inspired by NASA technology, the Zero gravity position is the perfect position to enjoy a massage, aligning your back relative to your thigh at an optimal level of comfort. When reclined into the zero-gravity position, the complete weight of your back is virtually supported by the backrest which maximizes the intensity of the massage.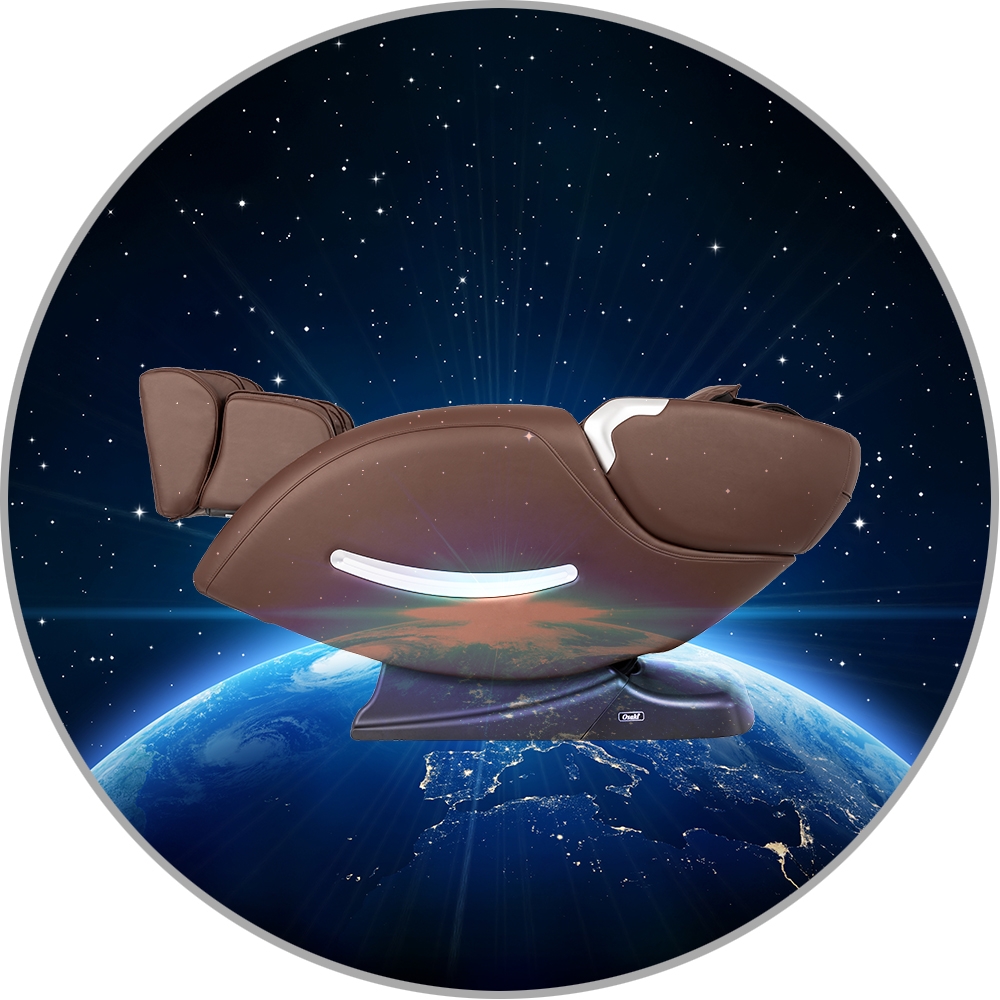 Extendable Footrest
OS-4000XT has an extendable footrest which can be extended up to 6.5 inches.
6 Auto Massage Program
The OS-4000XT has 6 different auto massage programs. Neck/Shoulder, Strengthen, Relax, Thai, Recover and Sleeping.
6 Massage Style
The Osaki OS- 4000XT massage chair comes with a manual mode so you can pinpoint a desired massage for a specific area on your body. OS-4000XT can perform Kneading, Tapping, Swedish, Clapping, Rolling and Shiatsu. You can either pinpoint a specific spot on your back for the massage or massage by sections of the body.
Manual Massage Setting
You can meet variety of options to customize your massage with the OS-4000XT. OS-4000XT has a Manual Control Function for Mode, Massage Position, Massage strength and width of the Rollers.
Space Saving Technology
Osaki's innovative design team has engineered a space saving technology that slides the chair forward as the chair reclines. As a result, the OS-4000XT takes only 2 inches to get to the fully reclined position.
Built in Bluetooth Speaker
The Osaki OS-4000XT is equipped with Bluetooth technology that allows the user to listen to their favorite music on high quality speakers in the headrest. 4000XT is featured with a 4D surround sound system which has four speakers located in the headrest and side panel areas.
Easy To Use LCD Remote
The Osaki OS-4000XT remote has an easy view screen displaying the function the chair has activated. On the remote it allows you to select the massage type, intensity, and location.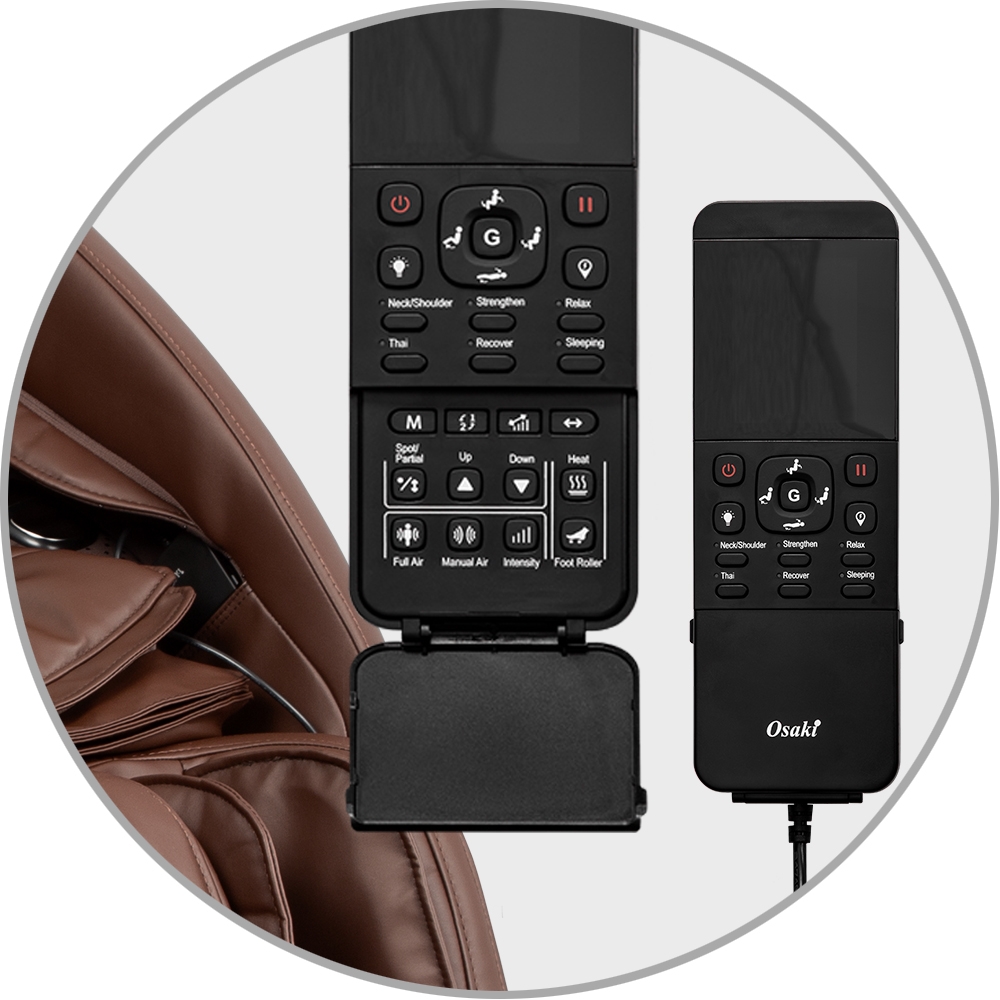 Heat on Lumbar
The OS-4000XT has 2 heating pads located on the back area, which enhances the effect of the massage.
Specifications
Specifications

Recommended Height Range

Up to 6'3"

Recommended Weight Limit

260lbs

Ability to target specific body areas

Yes

Heat therapy

Lumbar

Rollers Track Type

SL-Track

Deep Tissue Massage

Yes

Space Saving

Yes

Zero Gravity

Yes

Foot Roller

Yes

Styles of massage

Kneading, Tapping, Swedish, Clapping, Rolling and Shiatsu

Number of preset massage programs

6

Abililty to manually set massage

Yes

Vibration massage

Yes

Built in Bluetooth Speaker

Yes

# of airbags

24

Dimensions L x W x H (Upright)

60.6L x 28.8W x 44.5H

Dimensions L x W x H (Reclined)

70.9L x 28.8W x 37H

Weight of massage chair

175.2lbs.

Rated Voltage

110-120V

Rated Frequency
60Hz
Rated Power Consumption
100W
Rated Time
15 minutes
Length of Controller Wire
59.0"
Length of Power Supply Wire
70.9"
Safety Feature
Equipped with Overheated and Power
Storage Humidity
20-80RH
Free Shipping
Shipping is free for all orders within the continental 48 states!


Orders are typically delivered within 8 to 15 business days (or about 20 business days for white glove setup). Please understand that delivery companies are backed up due to covid.

You'll receive a phone call 1-2 days prior so you can schedule a convenient day/time. You don't have to worry about them showing up unannounced.
Do I need White Glove Setup (also known as indoor setup & assembly) or can I do it myself?
The chairs are easy to assemble. It only takes about 20 minutes. The only reason assembly is required is because most chairs ship with the arms detached to make it narrower, lighter and easier to move into your home.
The assembly is basically just screwing the arms to the chair. It includes easy to follow instructions and does not require special tools or skills.
If you want them to setup the chair inside your home, you can select the option for "White Glove Setup". We don't recommend it for most people it because it's an easy way to save yourself the money. But we're happy to add it to your order if you'd like.
Canadian customers
Yes, we ship many massage chairs to Canada. Total turnaround time is typically about 2 and a half weeks. We make it easy by handling all of the importing paperwork. We also pay for the customs brokerage and filing fees.

GST (usually 4.9%) and duties if levied, would be billed to the customer. Duties have never been levied on massage chairs we've shipped to Canada.
Manufacturer's Warranty
This item includes a 3 year Manufacturer's Warranty on the parts. And for the 1st year, in home labor service is also included.
A qualified technician would be sent to your home to provide service if you ever need it. You never have to ship the chair for service.
For the full warranty text, please click here
3 Year Rock Solid Warranty / Parts & Labor Warranty
This NON-TRANSFERRABLE Warranty is provided by Titan MassageChair,Inc.
We guarantee that your qualified product will be replaced or repaired at our option, without cost to you, should it be deemed defective because of faulty parts, workmanship or structural defects during the first THREE (3) years of ownership, excluding specific limitations contained herein.
What Is Covered*:
This warranty explicitly covers all parts, labor and framework of the chair.
This warranty includes parts costs and labor for the first year at no cost to the customer.
This warranty includes parts costs covered for the second year at no cost to the customer.
Structural Framework on selected products carries for three (3) years.
The additional extended warranties includes parts and labor costs covered at no cost to the customer.
What Is NOT Covered*:
Any shipping expenses incurred. Transportation damage; theft; abuse; neglect; vandalism
Damages incurred due to shipping and handling, dropped products, improper installation, and/or unauthorized repairs do not constitute a defect under this warranty.
Modifications or altered conditions of the original product, improper use of electrical/power supplies, electrical disturbances and power surges.
Malfunctions due to improper use as well as unreasonable use or maintenance including failure to follow operating instructions.
Any environmental conditions (examples: fire, floods, rust, corrosion, sand, dirt, windstorms, hail, earthquakes, and/or tornados) or any other exposure to weather conditions.
This warranty does not include normal wear and tear including velcro or zipper malfunction, or tears in any fabric covering by abuse. Failures or attached points in stitching, Velcro, and zippers do not constitute as a defect for warranty.
Softening/ hardening of foams and filling composites in pillows and pads; Fading, wear, and pilling of fabrics does not constitute a defect under this warranty as those items naturally change with use.
Natural patterns and grains and variations in leather will not constitute as a defect under this warranty, as no two pieces of fabric are identical.
The warranty shall not apply if the product has been damaged physically, whether intentionally or due accident or neglect: including stains, fluids, mold, water damage, animal damage, cuts, burns or is otherwise unsanitary, damaged or soiled.
Products used in commercial or corporate settings
Products purchased from unauthorized dealers.
Implied Warranty & Other Damages:
Any implied warranties shall be limited to the duration of the 1 year portion of this limited warranty, and with regard to structural framework, limited to the duration of the 3 year portion of this limited warranty.
By making a purchase, you agree that Titan Chair LLC. will not be liable for any items damaged and/or lost while en route to the specified address. Any claims for such loss or damage must be addressed and resolved with the designated carrier.
In no case will Titan Chair LLC. be liable for incidental or consequential damages, whether such damages are claimed on account of breach of warranty, breach of contract, negligence or strict/product liability, including without limitation, damage to property (other than the product) or other economic losses.
How to obtain warranty service:
You must provide proof of purchase for any warranty claim.
You must obtain a return authorization number in order to ship products to a service center.
You may obtain service advice, or an RMA number by contacting the Titan Chair LLC Customer Service department toll-free at 1-888-848-2630 ext.3.
This warranty gives you specific legal rights. You may also have other rights that vary from state to state.
Titan Chair, LLC Warranty Limitations and Exclusions

Warranties are non-transferable, and do not cover any damage or loss caused by: use in a commercial or corporate setting; failure to follow operating instructions; Electrical disturbances and power surges; dropped product; including but not limited to remote controls; Damage resulting from improper use or maintenance; vandalism; environmental conditions; exposure to environmental conditions (rust, corrosion, sand, dirt, wind, hail, earthquake, tornado, fire, flood); loss of use during the period that the product is being repaired; products purchased from unauthorized resellers; alterations or modifications of original condition; theft; neglect; unauthorized repairs; loss of power.


Damage that occurred due to shipping and handling does not constitute a defect under this warranty. Fading, wearing, and the pilling of fabrics does not constitute a defect under the warranty. Failures of attach points such as stitching, Velcro, and zippers do not constitute a defect under this warranty. Under no circumstance shall Titan Chair, LLC or its representatives be liable for indirect, consequential, or incidental damages (including damages for lost profits, business interruption, bodily injury, medical, etc.), even if any party has been advised of the possibility of such damages.

Warranties are only valid within the 48 contiguous United States and Canada, provided the equipment has been operated according to the instructions accompanying it. All warranties begin on the DATE OF PURCHASE. Titan Chair, LLC, at its sole discretion, will repair or replace any defective part within a reasonable time frame.